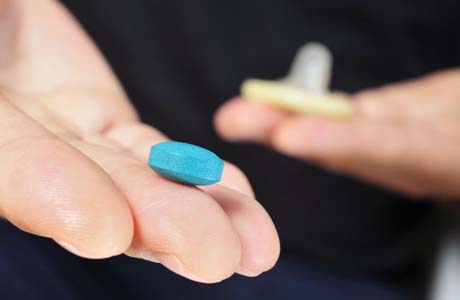 General principles and background
A combination prevention approach comprising multiple strategies and interventions is critical for achieving effective HIV prevention. Belgium's response to HIV builds on the achievements and lessons learned over the past decades and is shaped by emerging key challenges and opportunities.
Today, the HIV prevention toolbox is enlarged by biomedical tools such as Post-exposure Prophylaxis (PEP) for individuals who may have been exposed to HIV, treatment of people living with HIV to prevent sexual transmission (TasP) and recently the provision of Pre-exposure Prophylaxis (PrEP) for individuals at increased risk for HIV acquisition.
The utilisation of biomedical HIV prevention tools, although highly beneficiary, may also represent challenges as those tools need to be applied applied by people in specific community settings and contexts. That is why HIV prevention should evolve towards the best integration of these biomedical tools with the already existing prevention offer. Another element to take into account are the common modes of transmission of HIV and STI. This leads to overlaps in affected key populations and requires an integrated HIV and STI prevention approach.
Therefore, this HIV plan presents a renewed focus on combination prevention with an emphasis on structural prevention measures embedded within an overall sexual health approach. Primary prevention efforts should provide people and communities with adequate knowledge and skills to be in control of their sexual health including a fulfilled and pleasurable sexuality. Access to the means of prevention should be adapted to specific community settings and contexts, including the ones of young people. This will also require the removal of institutional or structural barriers such as HIV-related stigma to access the means of HIV and STI prevention.
Scientific and practice-based evidence show that subgroups within the population are differently affected by HIV and related STI. Therefore, the prevention priorities and actions in this plan emphasize groups who face greater risks and vulnerabilities. These groups include men having sex with men and people with a migrant background, in particular sub-Saharan African migrants. People who share several of these characteristics such as men who have sex with men with an ethnic minority background may be particularly vulnerable and affected by HIV1.
Finally, established HIV/STI prevention strategies are currently challenged by recent trends in declining condom use and increasing rates in STI other than HIV2 3, and sexualized drug use4. Combination prevention addressing these new phenomena will be most effective when considering the contextual factors that shape individual behaviours and when reaching out to the populations at increased risk in their own social settings.
The planned actions will embrace as much as possible a participatory approach. This will allow for tailoring them meaningfully to people's needs. It will also determine their success.
Objectives and priority areas
The objective of the prevention pillar is to reduce the transmission risk of HIV and other STI in the general population and among key-populations in particular, by combining available prevention strategies and tools.
Scope
The prevention pillar aims to cover primary HIV and STI prevention within the broad context of sexual health promotion. It comprises the combination of prevention components such as information and education, behaviour change and structural prevention interventions. It builds on an inter-sectoral response between the health sector – including community health workers, HIV specialists, general practitioners and mental health providers – and professionals from the education, social welfare, migration and research sector. Although HIV/STI testing and treatment are clearly part of combination prevention for HIV, these will be dealt with in the sections 'Testing Pillar' and 'Care Pillar'.
Involved competencies
The responsibilities and competencies for primary prevention are located within the regional health authorities. Subsidies are mostly provided on a short- and longer-term basis to community-based organisations, who are the most important actors in implementing primary prevention activities. Moreover, the family planning centres in Wallonia and Brussels are key stakeholders in the field of prevention. Local municipalities may also contribute to the financing of prevention activities.
Yet, PrEP and PEP service delivery is organised by the federal health authority and financed by RIZIV/INAMI.
True combination prevention calls for a multi-sectoral approach including – next to the public health sector – also social welfare agencies, education and migration agencies on the regional or local level.
Priorities
Through a participatory process, relevant stakeholders in the primary prevention field agreed on the following priority areas and actions.
Priority area 1: Increase awareness and knowledge on sexual health, including combination prevention of HIV and STI and risk reduction strategies
1.1 Inform and educate the general population on sexual health, including combination prevention of HIV/STI through sexual health education in schools and media campaigns
1.2 Inform and educate key-populations on sexual health, including combination prevention of HIV/STI through targeted initiatives and media campaigns
1.3 Update, develop and implement informative and educational tools on HIV/STI prevention and risk reduction for key-populations, including reduction of HIV-related stigma and discrimination
Priority area 2: Increase accessibility and uptake of HIV/STI prevention and risk reduction means for key-populations
2.1 Ensure wide distribution of free male and female condoms and lubricants in community settings for key-populations, e.g. in venues such as gay businesses and locations where sub-Saharan African migrants gather including community organisations, bars and churches.
2.2 Promote the availability, accessibility and uptake of PEP, PrEP and vaccination programs for HAV, HBV and HPV
2.3 Offer pathways to care and support for people who adopt chemsex practices
2.4 Increase access and uptake of HIV/STI prevention and risk reduction means by reducing barriers at structural, provider and user level
2.5 Assess how the location-population approach for HIV/STI prevention, in particular the UNAIDS fast-track city initiative, can be adopted and expanded in the Belgian context
Priority area 3: Expand and improve PrEP service delivery
3.1 Map current PrEP delivery practices and investigate innovative service delivery models, including the involvement of general practitioners and peers-led delivery models
3.2 Ensure that PrEP service delivery is combined with sexual health counselling, STI prevention, access to condoms and lubricants, regular STI testing and support in the context of chemsex
3.3 Increase the knowledge and awareness of PrEP by key populations and counter misconceptions and negative attitudes
3.4 Increase access and uptake of PrEP by key populations by reducing barriers at structural, provider and user level
Priority area 4: Enable healthcare providers and community health workers to support key-populations in the uptake of the means of combination prevention and risk reduction for HIV and STI
4.1 Increase knowledge and awareness of the available prevention methods including PEP, PrEP, TasP and entry-points to HIV/STI testing
4.2 Increase knowledge and awareness of problematic drug use, including chemsex and address it within a context of mental health and well being
4.3 Improve communication skills and intercultural competences to pro-actively address sexual health in general and HIV/STI prevention without stigma and discrimination
4.4 Increase inter-sectoral collaboration between health care providers and actors outside the health field (e.g. education, migration, social welfare) to improve combination prevention interventions including structural prevention
4.5 Integrate sexual health and combination prevention of HIV and STI in the curriculum of students in the medical and psycho-social field
Priority area 5: Develop (action) research on major health determinants and key-population's behaviour to inform evidence-based prevention interventions
5.1 Develop qualitative, quantitative, mixed-methods and participatory action-research on major health determinants and key population's risk and protective behaviour to inform HIV/STI prevention and sexual health promotion
5.2 Continue to develop and improve (behavioural) surveillance to monitor HIV prevention and sexual health promotion
---------------------------------------------------------------------------
1 Bil JP, Zuure FR, Alvarez-del Arco D, Prins JM, Brinkman K, Leyten E, van Sighem A, Burns F, Prins M. Disparities in access to and use of HIV-related health services in the Netherlands by migrant status and sexual orientation: a cross-sectional study among people recently diagnosed with HIV infection. BMC infectious diseases. 2019 Dec 1;19(1):906.



2 Holt M, Lea T, Mao L, Kolstee J, Zablotska I, Duck T, Allan B, West M, Lee E, Hull P, Grulich A. Community-level changes in condom use and uptake of HIV pre-exposure prophylaxis by gay and bisexual men in Melbourne and Sydney, Australia: results of repeated behavioural surveillance in 2013–17. The lancet HIV. 2018 Aug 1;5(8):e448-56.



3 Vuylsteke B, Reyniers T, De Baetselier I, Nöstlinger C, Crucitti T, Buyze J, Kenyon C, Wouters K, Laga M. Daily and event-driven pre-exposure prophylaxis for men who have sex with men in Belgium: results of a prospective cohort measuring adherence, sexual behaviour and STI incidence. Journal of the International AIDS Society. 2019 Oct;22(10):e25407.



4 Rosińska M, Gios L, Nöstlinger C, Berghe WV, Marcus U, Schink S, Sherriff N, Jones AM, Folch C, Dias S, Velicko I. Prevalence of drug use during sex amongst MSM in Europe: results from a multi-site bio-behavioural survey. International Journal of Drug Policy. 2018 May 1;55:231-41